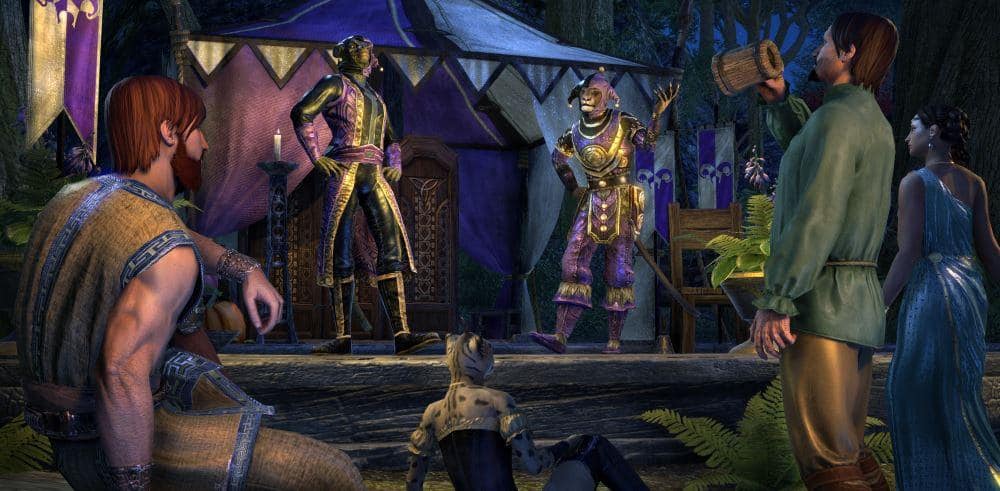 Revel in a prank-filled celebration of the absurd and the foolish during the Jester's Festival event. Check out this article for everything you need to know in order to participate in the peculiar and preposterous fun!
JESTER'S FESTIVAL FRIVOLITIES
The Jester's Festival begins on Thursday, March 29 at 3:00PM BST and will run until Monday, April 2 at 3:00PM BST. If you want to take part in the silly season, make your way to the pavilions located outside the cities of Ebonheart, Vulkhel Guard, and Daggerfall.
When you arrive, strike up a conversation with one of the three Jesters dressed as either Jorunn the Skald-King, Queen Ayrenn, or High King Emeric (don't worry, they're not the real thing). Complete the intro quest titled "The Jester's Festival" to acquire the powerful not-a-Daedric artifact known as the Pie of Misrule. Note that if you completed the quest last year, you won't need to do so again. When you activate this delicious memento during the event, you'll receive a two-hour 100% XP buff. Once the event ends, you keep the pie, but it loses its XP "buffinating" properties. Sorry!
But don't worry, that's not all! Each day, you can talk to each unique Jester to receive a different daily task. Each one of your characters can receive up to three unique quests per day. Upon completion, you'll receive the Jester's Fesitval Box. This prodigiously prestigious package can contain the following weird and wonderful items:
A host of fun consumables
Unique Jester's Festival mementos:

Cherry Blossom Branch
New Scintillator Memento

Jester's Festival Housing items:

Jester's Standard
New Jester's Coffer that pops confetti!
New Recipe for Jester's Pavilion furnishing, allowing you build your own pavilion tent!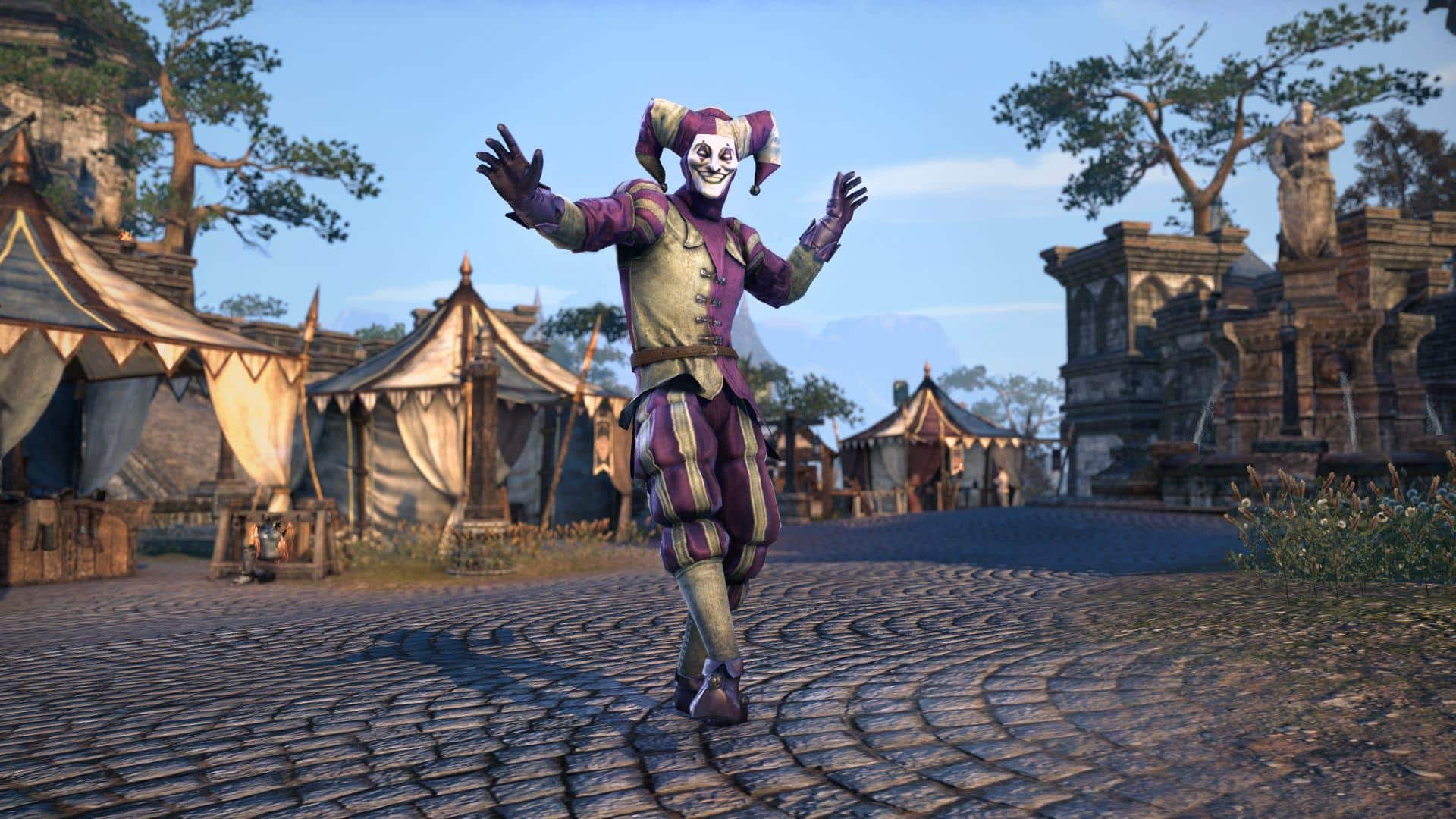 In addition to the above, there's a selection of Jester's Festival Achievements that you can earn throughout the event period. These Achievements even have unique rewards, including the Crown of Misrule hat and the Royal Jester title!
Finally, during the event, you can also acquire Jester's Large (15,000 gold) and Small Trees (5,000 gold) from the Achievement Vendor, Heralda Garscroft, found in Alliance Capitals.
ABSURD NEW CROWN STORE ITEMS
To help you get in the spirit of the silly season, the in-game Crown Store will also feature some Jester's Festival-themed items, including:
Royal Court Jester costume (at 50% off!)
Jester's Festival Hat Pack
Masqued "Unicorn" Steed
Madcap Jester Monkey pet
The Jester personality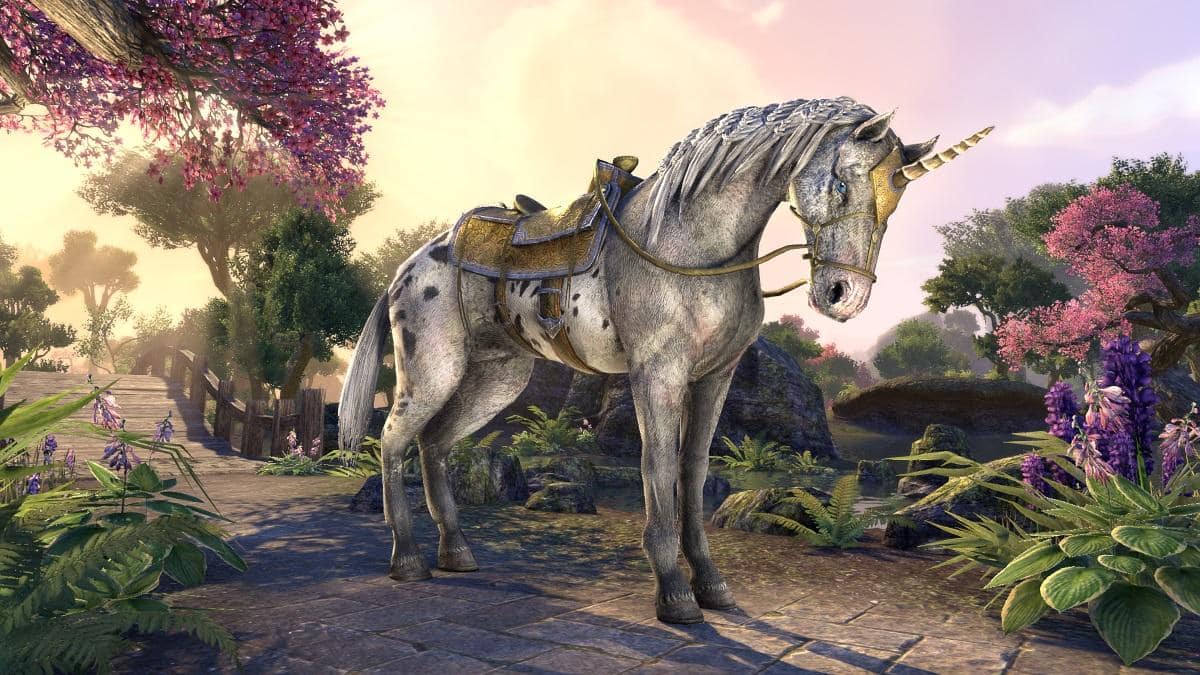 CELEBRATE THE PREPOSTEROUS
The Jester's Festival will come to its inevitable and ignoble end on Monday, April 2, at 3:00PM BST, so be sure to make the most of it!
Are you going to revel in the absurd and the foolish during this year's Jester's Festival? Share your stories and screenshots of frivolous fun with us on, Instagram, Facebook, and Twitter @TESOnline.
204 total views, 1 views today